Dozens of schools jobs in Cornwall 'at risk'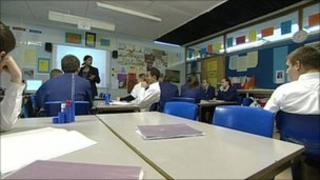 Dozens of jobs at schools in Cornwall are at risk as a result of government spending cuts, members of teaching unions in the county say.
Of 276 state-funded schools across Cornwall, staff at 31 have been told of the need for job cuts, the National Union of Teachers (NUT) said.
Thirteen schools were considering compulsory redundancies. Others were working on voluntary losses, it added.
Schools will not to see budgets rise in real terms over four years.
'Not a business'
Ian Williams, a teacher at Truro's Richard Lander school and the NUT spokesman for Cornwall, said that the talk of redundancies was "the highest number we and members of other unions have ever seen here".
He said: "What we're talking about is investment in the future, in children's education.
"Schools should not be run as a business interest."
Members of unions are meeting in Truro on Wednesday to discuss the situation.
In December, the government admitted schools in England would not see budgets rise in real terms over the next four years.
Before that, it had announced the axing of the £55bn Building Schools for the Future (BSF) scheme, meaning that at least 700 planned school rebuilding projects in England would not go ahead.
It included several projects in Cornwall.
A review into the cancellation of the BSF scheme is under way.