Cathedral's new bells to ring out over Truro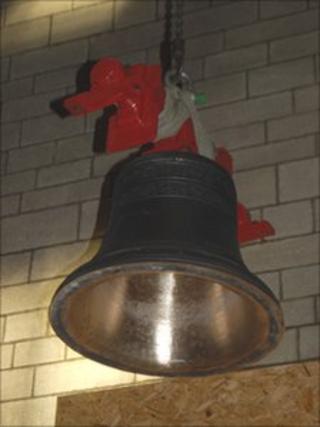 Truro Cathedral has a full ring of 12 bells for the first time in its 100-year history.
Four new bells were commissioned from one of the oldest bell foundries in the country, John Taylor and Co.
It was the same foundry that installed the original bells 100 years ago.
The bell ringers themselves have raised the £150,000 to get the new additions made and installed.
The new bells have been cast to celebrate the centenary of the completion of Cornwall's cathedral.
Two bells will be added to the cathedral's already impressive ring. Two smaller ones will give the option of a lighter sound.
They were cast in bronze - a mixture of copper and tin - using techniques and craftsmanship that have changed very little over hundreds of years.
The bells will be Cornwall's only ring of 12. They are expected to attract bell ringing enthusiasts from around the country.
Steve Westerman, of bellmaker John Taylor and Co, said it had been hard finding room for the new additions in the cramped bell tower.
He said: "It's quite a bit more than just installing four bells. We've got to completely re-arrange the existing ring of 10 to fit the other four in.
"I think we're using nearly every spare inch of space to get the extra bells in."
Restoration
Throughout 2010 Truro Cathedral was covered in scaffolding while essential stone maintenance was carried out.
The final stone in the refurbishment of its main spire was cemented into place in February 2011.
About 1,300 stones were replaced on the structure after more than a year of work.
The £1.6m cost of that work came from a number of grants and support from the people of Cornwall.