Cornwall renewable energy firm Earth Energy collapses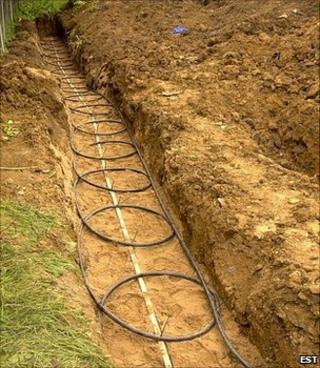 A Falmouth firm that heats homes and offices with energy absorbed from the ground has gone into administration.
Earth Energy blamed a number of factors including a fall in public spending after the government's Spending Review.
Administrators say they are very hopeful of selling the firm which was founded in 1996 and employs 24 people.
The firm said most of its business was in the public sector, but that "pretty well dried up" following the Spending Review in October 2010.
Earth Energy uses buried pipes to extract heat from the ground. This is usually used for radiators, under-floor heating and hot water.
Managing director Brian Kennelly said: "Most of our business was related to the public sector and it pretty well dried up following the Comprehensive Spending Review in October."
He also blamed uncertainty over payments to people installing renewable heat systems, including the feed-in tariffs (FITs) scheme and the proposed renewable heat incentive (RHI).
In February Energy Secretary Chris Huhne launched a comprehensive review of the FITs scheme.
He said it follows growing evidence that large scale solar farms could soak up money intended to help householders, communities and small businesses generate their own electricity.
Ian Walker of administrators Begbies Traynor said: "This company is at the forefront of the industry in pioneering green energy.
"There is likely to be considerable interest in the business and I am very confident the business will be sold as a going concern in due course."