Isles of Scilly drivers could see cut to fuel prices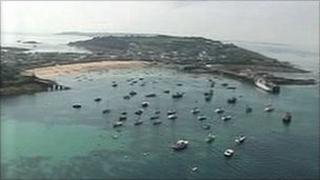 Fuel prices could be cut for drivers on the Isles of Scilly.
The government has confirmed it is trying to reach an agreement with the European Commission to reduce fuel duty by 5p per litre.
The Isles of Scilly, along with some of the Scottish islands, have been chosen as a pilot area for the scheme.
The coalition agreement contained a commitment to help people living in rural areas of the UK with the cost of fuel.
A spokesperson from the main fuel supplier on the islands, said the price of unleaded petrol was about £1.60 per litre.
Earlier in the week, the price hit a new record average of £1.30 per litre in the UK.
Liberal Democrat MP for St Ives and the Isle of Scilly Andrew George said he supported the move to reduce duty.
But he had hoped parts of mainland Cornwall would have been included in the pilot.
If the scheme was a success, Mr George said he hoped it would be introduced to other areas including Cornwall.
Chief Secretary to the Treasury Danny Alexander said: "Everyone in the country is feeling the pressure of high fuel prices, but these island communities are where the prices are highest and the pressure is huge on families."
The Treasury could not tell BBC News how long the negotiations would take, how many people would benefit from the pilot or the total cost of the scheme.