Scilly Link: Cornwall Council plan to borrow extra £5m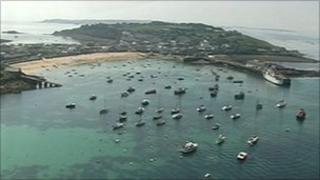 Cornwall Council is considering borrowing an extra £5m to help fund a scheme for a new ferry link between Cornwall and the Isles of Scilly.
The council had hoped to receive final government approval for the project last year.
But following the Comprehensive Spending Review it was asked to reduce the cost or increase local contributions.
The proposal will be considered by the council's cabinet on Wednesday.
The council said that, if approved, it would bring the level of local contributions up to £26.75m, 43% of the £62.05m required for the scheme.
The £5m would be borrowed from the financial markets.
The new passenger/freight ferry and terminal in Penzance are designed to replace the existing service, which needs updating.
Philip Hygate, chairman of the Route Partnership and chief executive of the Council of the Isles of Scilly, said: "Cornwall Council and the other members of the Route Partnership have done everything they can to ensure that this project goes ahead.
"We now need an urgent decision from the government if we are going to take advantage of the tenders we have already received and secure the £11.75m of EU Convergence funding which forms part of the local contributions."
Alternative proposal
The council said the sea link between Cornwall and the Isles of Scilly carried about 90,000 passengers and 13,000 tonnes of freight to the Isles of Scilly each year.
It said it was essential for the "continued social and economic wellbeing" of the 2,000 islanders.
The plans for the new passenger/freight ferry and terminal in Penzance have been controversial because the terminal would be sited at Battery Rocks, an historical area of Penzance Harbour.
Penzance Business Network and Friends of Penzance Harbour, which are opposed to the current siting of the terminal, have published an alternative proposal which they claim is 40% (£25m) cheaper than the current scheme.
It would use an out-of-town site for the freight terminal, an existing harbour-side site for the passenger terminal and second-hand ferries instead of a new one.
Cornwall Council, which is run by a Conservative-Independent coalition, has previously said it has to save £170m over four years as part of government spending cuts.