BBC Radio Cornwall health debate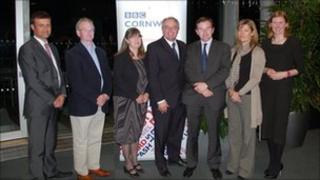 The national health service is facing one of the biggest shake-ups in its 70 year history.
As the government proposes to dismatle the existing managment structure more power is being handed to local GPs.
The complex subject was tackled on Wednesday evening by BBC Radio Cornwall's Martin Bailie.
He recorded a special edition of 'Any Questions' with an invited audience at the Eden Project.
If you missed the health debate you can hear it again via the BBC iplayer
BBC Radio Cornwall gathered people involved in health care across Cornwall to look at proposals to reform the NHS in England.
The Health Bill has been dubbed the most radical overhaul of the health service in England since the NHS was created.
The reforms will see tiers of management stripped out of the NHS and GP's take charge of 80 per cent of the NHS budget.
Primary Care Trusts and Strategic Health Authorities are being axed, and family doctors will decide what health services to buy and who to buy them from.
The bill also opens up the NHS to competition - putting private companies on an equal footing to NHS providers.
These plans have been hugely controversial so BBC Radio Cornwall invited a panel of guests and an audience to discuss them.
The panel consisted of: Steve Moore the acting Chief Executive of the Cornwall and Isles of Scilly Primary Care Trust, The MP for Camborne and Redruth George Eustace, GP Shelagh McCormick who chairs the Local Medical Committee, Christine Dayus from Unison Rob Gough from the volunteer organisation LiNK in Cornwall.
The audience was filled with NHS staff, health managers, health campaigners, hospital supporters, patients and listeners to BBC Radio Cornwall.
You will be able to hear the health debate again by logging on to the BBC iplayer