Chris Pomfret is chair of Local Enterprise Partnership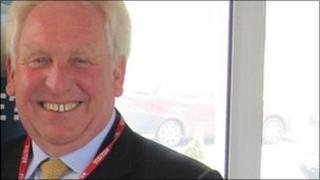 A leader has been appointed to head a new Cornwall business quango which will replace the South West Regional Development Agency (RDA).
Chris Pomfret has been appointed part-time chairman of the Cornwall Local Enterprise Partnership (LEP) on a salary of £20,000 a year.
The LEPs are new partnerships of councils and businesses which will replace England's nine RDAs.
The remaining board members will be appointed over the next few weeks.
Ann Vandermeulen, Cornwall development manager of the Federation of Small Businesses (FSB), said she was "very pleased" with the appointment of former Unilever executive Mr Pomfret, who is on the board of the Food Standards Agency.
"I have every confidence that with his experience, the small businesses in the county will be given every consideration and help under his leadership," she said.
Mr Pomfret, who lives near Port Isaac, said: "Although my business experience has not been based in Cornwall and the Isles of Scilly, I know the region intimately."
The first formal meeting of the LEP board will take place towards the end of April.