New body for Cornwall's fishing industry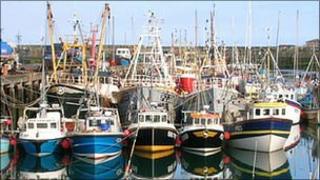 A new body running Cornwall's sea fisheries industry is poised to start work, taking over from its 121-year-old predecessor.
The Cornwall Inshore Fisheries and Conservation Authority (IFCA) will take over fisheries management in the inshore zone around the Cornish coast.
The original Cornwall Sea Fisheries Committee was set up in 1890 when the industry employed around 45,000 people.
IFCA will have greater powers than the Sea Fisheries committees.
Its duties include ensuring the sustainable exploitation of sea fisheries and protection of the marine environment.
Chairman Tony Tomlinson, said: "Healthy seas are just as important to every fisherman as they are to environmentalists and we all have to work together for the common good."
There are 21 members of IFCA in Cornwall, including 11 representatives appointed by the Marine Management Organisation (formerly DEFRA), seven Cornwall Councillors and representatives from Natural England and the Environment Agency.
The first meeting of Cornwall's IFCA will take place at County Hall, Truro at 1000 BST on 8 April.