Cut in South West water bills for poorest homes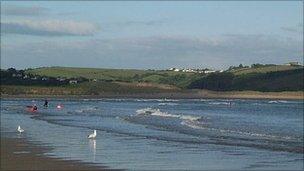 Plans to reduce the South West's "astronomical" water bills have been announced by the government.
South West Water said the proposals could mean a reduction of up to £140 a year for the poorest households.
The average water bill for other customers could be cut by £50 a year.
Customers in the South West currently pay the highest charges in Britain - with the average annual bill nearly £150 more than the national average of £340.
Bills are high in Devon, Cornwall and parts of Dorset and Somerset because South West Water has had to spend £1.5bn, since water privatisation 20 years ago, completely revamping the region's sewage system.
Customers also pay to maintain 30% of England's coastline even though they only make up 3% of the population.
Announcing the measures, Environment Minister Caroline Spelman said: "Our plans will increase the help available for vulnerable households right across England, with special help for people in the South West who, through no fault of their own, are battling astronomical water bills during a difficult economic climate."
The proposals include linking the amount paid by customers on the WaterSure scheme to the national rather than the regional bill figure.
This would reduce bills for about 8,500 homes by about £140 a year.
The WaterSure scheme is a capped charge intended to help people on low incomes.
The proposals also include giving the South West up to £40m a year to bring average household bills down by £50 annually, and enable suppliers to devise "social tariffs".
Defra's proposals are in response to the Walker Report, a 2009 review of water bills which said South West customers had been unfairly penalised.
South West Water said: "This top level response shows how keen the government is to tackle the unfairness issue recognised and highlighted by Anna Walker's report.
"These [proposals] would be big steps in the right direction and we will continue to work closely with the government and our regulators throughout the consultation phase to examine the practicality of all options to aid customers."
Charles Howeson, from the Consumer Council for Water, said customers believed it was "fair" to those on low incomes for the problem of high bills to be addressed.
"[Customers] have also told us that they believe funding this through public expenditure rather than water bills has the benefit of ensuring costs can be shared more widely, and in a way which is affordable," he said.
The consultation period for the government proposals ends on 17 June.
Related Internet Links
The BBC is not responsible for the content of external sites.