Language fellowship calls for more 'Cornish pride'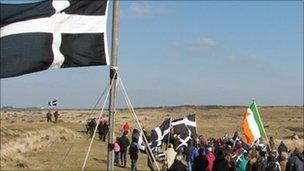 The head of the Cornish Language Fellowship has called on more people to declare that they are proud to be Cornish.
Loveday Jenkin was speaking to a group of curates debating what makes a person Cornish.
The Church of England has vowed to be more aware of the needs of congregations.
Loveday Jenkin said more Cornish people should show they are proud of their heritage so it does not fade away.
"What we need is to be able to say that we're Cornish without feeling we're going to be attacked or criticised," she said.
"I think this whole essence of Cornishness could easily be lost within a generation."
Curate Jana Kneebone, who already speaks the Cornish language, would like to hear more of the language in services.
"I think it's an excellent idea," she said.
"Bearing in mind only a few people in your congregation are actually going to be Cornish speakers, it would need to be balanced with English translation or an understanding of what exactly is going on."
Curate Andrew Yates said the church had a role in promoting Cornishness, but added: "I think it all depends on what you mean by Cornish.
"The Cornishness, in a sense, are those people who come here and enjoy all those things that make it an environment where people want to stay.
"Whatever it is that gives people that sense of belonging here, that's what we should be standing up and saying is important. Not necessarily the idea of Cornishness is because you're a Cornish speaker."
The day was organised as part of the curates' training as new priests. They hope it will help them become closer to their communities.
Related Internet Links
The BBC is not responsible for the content of external sites.