Rare parasite threatens Cornwall's oysters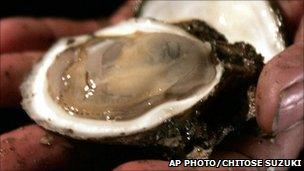 Cornish oyster fishermen say they are deeply worried about a new microscopic parasite that has been discovered in local waters.
Bonamia exitiosa is harmless to humans but could kill oysters.
This is the first time the parasite has been spotted in the UK.
The government has banned the movement of oysters from fisheries in the Fal and the Helford rivers, but the shellfish can be moved into purification tanks and can be eaten.
The Fish Health Inspectorate (FHI), a government body, is investigating how the disease spread.
Kevin Denham, head of the FHI, said: "Our restrictions only apply to the relaying of oysters, or the re-immersion of oysters in other waters. In effect our controls should not damage the normal business of producing oysters for human consumption.
"There's very little scientific information known about the parasite's effect. That said our diagnosis of the condition was in a very small proportion of the oysters examined."
Speaking on BBC Radio Cornwall, oyster fisherman Tim Vinnicombe, said: "We're all very concerned about the future of the oysters and anything to do with fishing. Anything that emerges is a big concern for us."
The oyster industry is governed by long-standing laws that were put in place to protect the natural ecology of the riverbeds and oyster stocks.
Oyster fishermen are not allowed to use boats with engines. Instead, sail power and hand-pulled dredges must be used.
The main oyster season begins in the autumn.
Related Internet Links
The BBC is not responsible for the content of external sites.