'Demand grows' for local farmers in Cornwall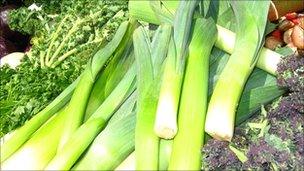 There is an increasing demand for farmers' markets in Cornwall, according to local producers.
Three new markets are to open in the villages of Constantine, Cury and Mullion during April.
Farmer Tim Bennetts, who supplies several markets, said the right price and quality is behind the success.
Work is also under way to build a £1.7m building which will house a permanent farmers' market in Helston.
The new market site is set to be completed by April 2012.
Producers say the local farmers' markets are building up their own customer base.
Mr Bennetts said: "We're doing all the work ourselves. It's not packed up in plastic, so we've got less waste as well."
One customer Pat Whittaker, from Falmouth, said: "Farmers used to manage at the side of the road. That's not an option anymore, I am all in favour of farmers' markets."
Research by BBC's Countryfile programme, found there were now more than 800 nationwide.
Meanwhile, Tesco and Sainsbury's, which both opened stores in Helston last year, said the shops were doing well.
Sainsbury's said the Helston store had created 200 jobs for local people and "also supports the local area by stocking a range of Cornish products, including ice cream and cider".
And a spokesperson for Tesco said: "We are proud to invest in town centres across the UK and this store's performance reflects there is healthy competition and sufficient capacity for a number of different shopping outlets in the local area."
Related Internet Links
The BBC is not responsible for the content of external sites.