Christian sandwich appeal in Helston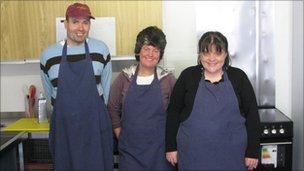 A Christian charity in Cornwall is appealing for more businesses to buy its sandwiches made by people with learning difficulties.
Mustard Seed runs a café in Helston and also has a lunchtime sandwich service.
So far few people have taken up the offer and the charity claims it is because it appears too many worry that the sandwiches might not have been made in the proper conditions.
The charity points out a recent health inspection said they were one of the best in town.
Anne Marie, who helps make the sandwiches, says it really boosts her confidence.
"It's easy to learn how to cut things properly and not be afraid to do it."
Martin Athay buys the sandwiches and praises the work down by Mustard Seed.
"Good organisation. I think it should be supported.
"If any of us got into a situation where we needed looking after, or our children needed looking after, you would look for a place like that."
David Williams is the development manager for Mustard Seed. "The sandwich service is one of the crucial parts of the income for Mustard Seed as a charity. It's also providing a lot of training and experience for those we support.
"All charities are struggling at the moment. We have some fantastic customers at the moment and we really appreciate their support."
BBC Radio Cornwall did speak to a number of people out and about in Helston, who wouldn't be interviewed, who expressed reservations about buying sandwiches from the Mustard Seed. But one did say he would give them a try.
Back in February it was announced that the supermarket Sainsbury's in Helston had adopted Mustard Seed as its local supported charity.
The local organisation also provides the Open Door coffee shop and a vegetable box delivery service.
Related Internet Links
The BBC is not responsible for the content of external sites.