University College Falmouth sets £9,000 tuition fees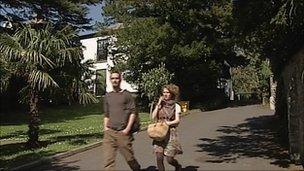 Governors at University College Falmouth (UCF) have set student tuition fees at the maximum of £9,000 a year, from 2012.
UCF, which has 3,500 students, said the fee would allow it to invest in areas such as computer gaming, software design and social media.
More than 30 universities have already declared their intended fee levels for next year.
The majority, including Cambridge and Oxford, are planning to charge £9,000.
MPs voted to raise tuition fees to £6,000 from 2012 at the end of last year, with institutions allowed to charge up to £9,000 only in "exceptional circumstances".
Anne Carlisle, rector & chief executive of UCF, said the university would be allocating £500,000 for scholarships and offering 100 students from low income backgrounds up to £3,000 each.
She said: "It is not about generating money for its own sake.
"It is about offering the sort of experience that students and employers want."
All universities planning to charge more than £6,000 will have to have their fees approved by the Office for Fair Access and sign access agreements showing how they plan to ensure poorer students are not priced out.
Andy Edmonds, president of the UCF branch of the National Union of Students, said UCF would "have to do a lot of work" to justify the fee.
"A lot of students will feel it is a terrifying amount of money," he said.
"It is going to scare a lot of people."
The BBC News website has published a list of the universities that have declared their fees so far.
Exeter University in Devon has already set its fee at £9,000 a year.
Plymouth University, Truro & Penwith College, Cornwall College and the Peninsula College of Medicine and Dentistry have until 19 April to submit their proposals.
The government will then assess those agreements and announce all that have been approved by 11 July.
Related Internet Links
The BBC is not responsible for the content of external sites.