Energy efficiency boost at Eden Project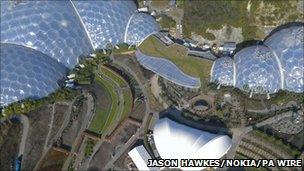 One of Cornwall's main tourist attractions is spending £580,000 to increase energy efficiency and ultimately save money.
The Eden Project said a range of new measures should cut carbon emissions by 25% over the next two years.
The systems are expected to save £160,000 per year, meaning they should pay for themselves in about three years, an Eden Project spokesman said.
The energy-saving measures also include new boilers and light installations.
The Eden Project is described as a "global garden", featuring huge conservatory-like biomes built in a disused china clay pit near St Austell.
More than 12 million people have visited the project since in opened in 2001.
The attraction has secured a loan from the Carbon Trust which will be paid back from the savings made by being more environmentally friendly.
Matt Hastings, the energy manager, said it was necessary because the cost of energy was increasing.
"We're in a position now where we can 'walk the talk' in a way we've never done in terms of our technical efficiency.
"While renewables are very important, the most critical tool in the box is a focused commitment to reducing consumption," he said.
He said the new integrated temperature control system was like a giant television remote control which would allow for very tight control of heat and electricity consumption.
A new gas-fired boiler system has already been installed at the nursery near Pentewan and smaller boilers will be installed in the energy and visitor centres, which Eden said will be more than 90% efficient.
The boiler installations are being designed and installed by two local companies based in Redruth.
Another local firm in Bodmin has already fitted more than 700 low energy LED (light emitting diode) lights at Eden.
"Eden is less than 10 years old so our infrastructure is reasonably new but we, like other businesses and homes can still make significant improvements," Mr Hastings added.
Related Internet Links
The BBC is not responsible for the content of external sites.