Second-home owners to lose their vote in Cornwall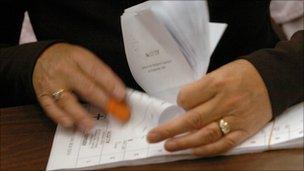 Election officials in Cornwall have removed nearly 1,000 people from the voting register, because they are second-home owners.
Officials say they can not confirm if any of the part-time residents used their vote in Cornwall at the general election.
Cornwall Council wrote to the second-home owners. They agreed to be removed.
If any had voted here as well as elsewhere they would have broken the law.
Election officials acted after an investigation into whether second-home owners might be able to influence the outcome in closely contested elections.
Cornwall Council has asked the government to change the law nationally to remove the possibility of second-home owners wielding undue influence.
The government said it was considering the issue but also said that no legislation was in the pipeline.
Liberal Democrat councillor, Alex Folkes, the vice chair of Cornwall Council's Electoral Review Panel, said: "Our electoral officials do an excellent job but they are struggling to interpret the law.
"The government unfortunately hasn't done anything. So it's up to Cornwall Council to lead the way nationally."
The total number of second-home owners removed from the voting list in Cornwall was 947.
Related Internet Links
The BBC is not responsible for the content of external sites.