Parents concerned about Cornwall's Sure Start changes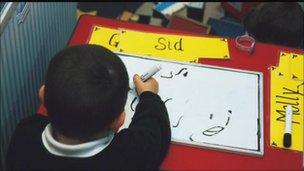 Parents and carers in Cornwall are concerned budget cuts will result in a drop in services and support at children's centres across the Duchy.
The 40 Sure Start centres offer advice and support for parents.
Campaigners are worried about the effects of £1.6m cuts, a management shake up and providing new services for children up to 12 years old.
Cornwall Council said all the centres would remain open and blamed government cuts for the changes.
The BBC understands that budget cuts now mean managers will be in charge of several centres instead of one and the service will now be open to children up to the age of 12.
Alana Bates said the centre in Penzance was a lifeline when she suffered with post-natal depression.
She said: "If they are cutting budgets and broadening the remit up to 12-years-old, I just don't see how that can happen without the under fives services suffering."
Mother, Rene Crouch said the centres were a vital place for people living in the community to receive help and support.
Neil Burden, Leader of Cornwall's children's services said the authority had no choice but to make the cuts after central government slashed the budget by 30%.
The Conservative and Independent-controlled council has to save £170m over the next four years.
Mr Burden told BBC News that a government grant for children's centres had stopped and the authority had to find the money to pay for the service.
"We've realised the importance of children's centres, and we've cut funding by just 14%, so we're still spending £9.6m a year on them."
In 2010-2011 Sure Smart children's centres received £11.2m from Cornwall Council.
Mr Burden said it was important that support was there for parents, carers and young people.
The Department for Education said there was enough money available to maintain a network of Sure Start children's centres, and that councils had a statutory duty to do so.
Related Internet Links
The BBC is not responsible for the content of external sites.