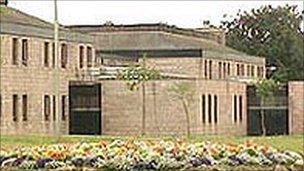 The wetting of the feet of church goers at services on Maundy Thursday in the lead up to Easter is a well rooted and well known tradition.
Christians remember it as the day of the Last Supper, when Jesus washed the feet of his disciples and established the ceremony known as the Eucharist.
The night of Maundy Thursday is the night on which Jesus was betrayed by Judas in the Garden of Gethsemane.
The word maundy comes from the command (mandate) given by Christ at the Last Supper, that we should love one another.
In Roman Catholic churches the anthem Mandatum novum do vobis (a new commandment I give to you) would be sung on Maundy Thursday.
In many other countries this day is known as Holy Thursday.
The wetting of feet today is an act which will not only take place in churches across Devon, but also in the county's prisons.
The Reverend Nick Martin, the chaplain of Channings Wood near Newton Abbot, said: ""I think it's significant as we think very much at this time of the year of Christ the victim.
All the members of my congregation in prison have left victims in their wake.
"Not only the people directly affected, but their families, their children, all of them suffer because of what these guys have done.
"We find they begin to think very specifically about what has gone wrong and the victims who are outside the fence.
"I frequently find in the days after Easter that many will come up and talk about what happened on Maundy Thursday.
"They ask why do you wash feet? What can we do in the future actually to serve other people rather than hurt them?"
The prison chaplaincy offers a chapel and multi-faith room to inmates and staff at the prison.
Mr Martin believes it is an essential service.
"We are given the privilege to stop and listen to people, and to get them to think in different ways from the ways that have got them into trouble in the past.
"There's also a pastoral heart within the prison and that is something a lot of men begin to relate to, and take with them as they come to the end of their sentence and are released back into the community."
Maundy Thursday falls on 21 April 2011.
Related Internet Links
The BBC is not responsible for the content of external sites.