Jersey stands by 'warmer' than Isles of Scilly claim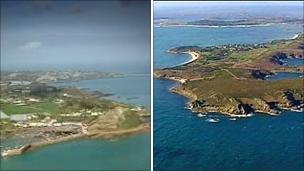 Jersey tourism officials are standing by their claim that the Channel Island is the warmest place in the British Isles.
Tourism officials on the Isles of Scilly said the Jersey TV adverts making the claim were misleading.
The adverts say Jersey is the warmest place in the British Isles, with mean temperatures over the year of 11.8C.
The Met Office confirmed the statistic, which compares with 11.6C on the Isles of Scilly.
Julian Pearce, economic development officer for the Isles of Scilly Council, said: "I saw their advert and was a little bit surprised at their claim.
"I thought it was appropriate to write to them reminding Jersey of our geographical position and also the long-held viewpoint that we are the warmest place in the UK."
But David de Carteret, director of tourism in Jersey, said he had checked the figures, which apply to the mean annual air temperature, averaged over the past 30 years.
He said: "You can use different metrics and come up with different answers, but we are holding on to our position on this.
"Jersey is the warmest place in the British Isles.
"I am sure the Isles of Scilly have wonderful weather, but ours is warmer."
A Met Office spokesman confirmed the figures, adding: "If you asked anyone at all, they would struggle to notice the difference."
Related Internet Links
The BBC is not responsible for the content of external sites.