Caravan horse is put down after Cornwall road collision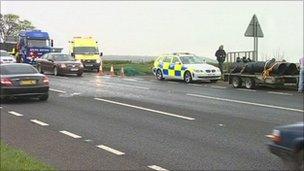 A horse pulling a caravan on a major road in Cornwall has been put down after being involved in a traffic collision.
The A30 was closed on Monday morning after the accident between the caravan and a car about 2 miles (3.2km) east of Bodmin.
Police said no people were injured but the horse was put down because of its injuries and the caravan was damaged.
The section of single-carriageway was later reopened.
Related Internet Links
The BBC is not responsible for the content of external sites.