Fishing boat sinks off Cornwall village of Looe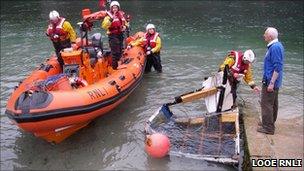 A fishing boat has sunk after hitting some rocks off the coast of Cornwall.
Looe's two lifeboats were launched at about 0650 BST, the RNLI said.
The Norvik was fishing west of Looe Island when it got into difficulties. The skipper, the only person on board, was rescued unharmed by another fishing boat, the Jane Louise, which responded to his mayday call.
The lifeboats' crews tried to save the Norvik but failed. They retrieved the debris and brought it ashore.
The lifeboats - the Atlantic-class Alan & Margaret and D-class Ollie Naismith - tried to save the Norvik using a salvage pump.
However, the vessel quickly sank, the RNLI said.
Related Internet Links
The BBC is not responsible for the content of external sites.