Camping out for the Royal Wedding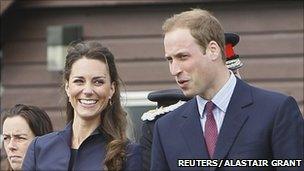 Two of BBC Radio Cornwall's presenters are preparing for a road trip they will never forget.
The Prime Minister did it back in 1981 and now, James Churchfield and Debbie McCrory, are planning to follow in his footsteps, and sleep overnight outside Buckingham Palace to watch the Royal Wedding.
An estimated 500,000 people are expected to head to London to watch the royal event of the year as Prince William marries Kate Middleton.
To get one of the best viewpoints you need to be there early.
James Churchfield has been speaking to some people from Cornwall who are used to spending a night underneath the stars, rain, sleet and snow.
Spanner Manley was a Major in the regular army. He said: "The secret to surviving a night like this is definitely preparation and tolerance for the person you're going to spend it with.
"We have a saying 'any fool can be uncomfortable'. With preparation you will be ok and you are going to soak up the atmosphere. You will have a wonderful time."
Anne Williams from St Austell knows what it is like to sleep overnight for a special occasion.
Mrs Williams is a huge Daniel O Donnell fan. Last November she queued for 60 hours to ensure she got the best tickets to see her idol.
She said: "We camped out there in all weathers. I had two tents and I borrowed a port-a-loo! It was really good fun.
"People say you're mad. As the hours go on, more and more people come along and you have a good laugh."
Spanner Manley had advice for James, Debbie and anyone else planning to camp out near the palace. He said: "You've got an end game. You've got light at the end of the tunnel, and that light will hopefully be the horse-drawn carriage that you're going to see."
BBC Radio Cornwall listener, Brian from Illogan, slept out during the Queen's Coronation of 1953.
The weather was not kind on that day, but it did not dampen his spirits.
He said: "I was in a hostel in London at the time and four of five of us decided we wanted to watch the Coronation. We camped out at Whitehall.
"We went there on the Sunday afternoon and the Coronation processions actually finished on Tuesday afternoon.
"We took plenty of food with us, and on the Monday some of the other people from the hostel brought us food during the day.
"Then on the Tuesday all the roads were shut so they couldn't do that then. You must take plenty of bedding and pillows.
"Also get up and walk around quite a bit. We would kip for two or three hours then walk around a bit.
"Back in 1953 there were plenty of others there two days before the event."
You will be able to find out how James Churchfield and Debbie McCrory get on with their royal camping mission during the lead up to the Royal Wedding.
Have you got any helpful tips for our intrepid campers? Email your advice and we will pass them on to James and Debbie.
The wedding will take place at 11am at Westminster Abbey on Friday 29 April.
Related Internet Links
The BBC is not responsible for the content of external sites.