Rare chick born in Cornwall wildlife park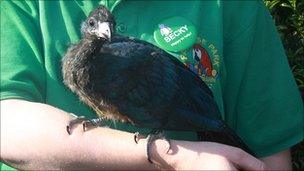 A wildlife park in Cornwall has succeeded in breeding a threatened African bird for the first time.
Paradise Park in Hayle has bred the Great Blue Turaco chick and believes it is the only hand-reared one to have survived in captivity this year.
The park is one of only two collections which have pairs of the species on display in the UK.
The species is at risk from hunting and deforestation. Keepers said having the chick was "an absolute thrill".
Keeper Becky Waite said: "We are delighted to finally have bred our first Great Blue Turaco chick.
"I hand-reared the chick because the female has not reared any of her chicks so far.
"She laid her eggs when the weather was extremely cold, so she would have been very unlikely to incubate for the full 32 days needed."
The chick was first fed on a special pelleted food made for parrots, softened with a sugar-water solution.
It was moved on to greens such as steamed broccoli at 10 days old, then small cut tropical fruit including banana, blueberries, mango, papaya and figs, were added.
The park hopes the chick will be available to carry on the species - which is from the tropical forests of west Africa.
Related Internet Links
The BBC is not responsible for the content of external sites.