Fears for Cornish Language Partnership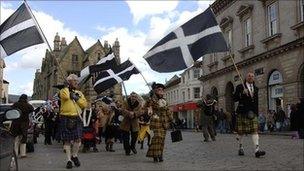 The Cornish Language Partnership says it is facing an uncertain future unless the government approves its bid for funding.
The partnership was set up in 2005 to co-ordinate efforts to promote the Cornish language.
It runs on an annual budget of more than £200,000.
Nearly three quarters of the money comes from central government. The current funding ran out at the end of March.
The Department for Communities and Local Government said no decision has yet been made on the latest funding bid.
Project manager Jenefer Lowe said without more government support the partnership will not be able to build on its past success.
She said: "There's no legal responsibility to fund the language but there is a responsibility to assist in the promotion and safe-guarding of it."
Since it was formed the partnership said it has brought about a consensus on the standard written form of the Cornish language and helped to challenge the idea that it is a dead language.
In February 2009 the United Nations said Cornish was extinct. By December 2010 the UN accepted that it should re-classify Cornish as merely critically endangered.
Cornwall councillor Bert Biscoe, a member of the Partnership, said: "If you're looking at Cornwall's distinctiveness, its brand in the future world of trade and so forth, having something that distinguishes and defines our brand like a living language is very important."
If the government does not renew its funding, the Partnership said it will try to secure money from other areas.
Related Internet Links
The BBC is not responsible for the content of external sites.