South West troops off to Afghanistan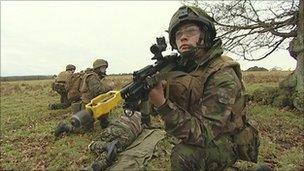 Hundreds of troops from across the South West are part of the latest deployment to Afghanistan.
Soldiers from 1 Rifles Battle Group, including about 40 Territorial Army (TA) soldiers from Exeter-based 6 Rifles, will be joining the task force in Helmand Province.
The TA troops have spent the past year training alongside regular soldiers in preparation for the deployment.
They will be based in Afghanistan until November 2011.
The Commanding Officer of 1 Rifles, Lt Col James de Labilliere, said: "We're going out to protect the population.
"We will also be developing the Afghan National Security Forces, both the army and the police, in capacity and capability terms to pick up the mantle of security responsibilities.
"We are going to reduce the Taliban effectiveness to disrupt that programme."
Among the part-time soldiers who will shortly be on their way to southern Afghanistan is 23-year-old Kat Lindfield.
She said: "I'm a little apprehensive but I am ready to get out there now. The training has been fantastic.
"We've been on the go for the last six months now. We're just chomping on the bit to get out there now."
The 1 Rifles recently launched a wristband appeal to provide support and assistance for the families, girlfriends and boyfriends of dead and wounded soldiers.
Related Internet Links
The BBC is not responsible for the content of external sites.