BBC Introducing: Frootful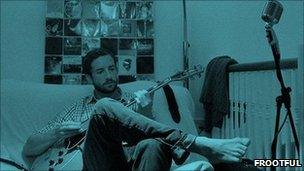 The Frootful Art Ensemble is a creative project of art and live music.
The recording project is the brainchild of illustrator and musician Nick Radford with production expertise from friend Adam Gibbons.
The six-piece live band is inspired by a unique brand of 1960s sounding, soul-jazz, Latin, blues and ska.
With the recent release if their debut album Colours, Frootful are hitting the promotional road.
Having played guitar in the band Lack of Afro for several years, Radford began making some home recordings of his own material.
Keen on what Radford had produced, Gibbons - also of Lack of Afro - offered up his services to the production.
The live format includes Radford on guitar; producer Gibbons on alto sax and percussion; Angeline Morrison from The Ambassadors of Sorrow on vocals; plus double bass, drums and tenor sax.
The 1960s style sound found on the album was created in the studio using vintage instruments and analogue gear.
This was intentional with Radford citing players such as Grant Green, Kenny Burrell, Boogaloo Joe Jones and BB King as a constant source of inspiration.
Radford said: "I'd love to tour the album, it seems to be going down well so far, so I am hoping to be able to get some dates in the autumn, maybe in Europe.
This genre of music seems to go down well in Spain, France and Germany and there's been some interest there already, so if all goes well I'd love to tour the album there."
Related Internet Links
The BBC is not responsible for the content of external sites.