Early asparagus crop in Cornwall 'due to weather'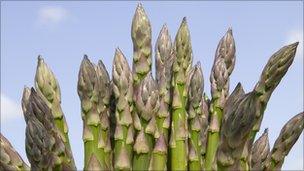 Growers of asparagus in Cornwall say they are harvesting the crop earlier than ever before.
They believe the big freeze before Christmas and the warm, dry spring are responsible for its sudden appearance.
Local growers say the crop is nearly a month earlier than usual.
The asparagus season is very short, lasting for about eight weeks. For many years it was considered to be a rich man's vegetable.
Cornish asparagus grower John Keeler said: "We're very surprised. You can see down the rows it's growing properly. We've had some warm weather and moisture too.
"We get Bulgarian and Romanian pickers. They are due at the end of April which is sometimes too early. This year we've been completely caught out."
The early arrival of the vegetable means the asparagus season in Cornwall has created a balancing act for Mr Keeler and other local growers.
"The big disadvantage of it coming so early means you can only have a limited harvest.
"If you try to extend the season too far you will then exhaust the plant and that could affect the season next year. By the beginning of June our season will be over."
The British Asparagus Growers Association said imported asparagus was available from different parts of the world all year round, but British asparagus was popular for its flavour and freshness.
Related Internet Links
The BBC is not responsible for the content of external sites.