Padstow's big celebration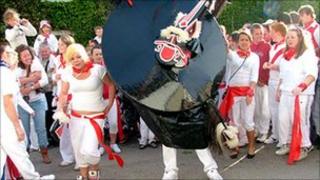 Thousands of people make the journey to Padstow to celebrate one of the oldest May Day traditions in the country.
The celebrations will take place on Monday 2 May 2011, as May Day is never held on a Sunday.
BBC Radio Cornwall's James Churchfield will be broadcasting live between 7-10am from Padstow.
There will also be further coverage throughout the day.
Listeners throughout the world tune into BBC Radio Cornwall to listen to the popular event.
The day celebrates the Celtic festival of Beltane, the spring festival dedicated to the return of the Celtic sun god Bel, that causes the crops to grow and the hours of daylight to lengthen.
The colours mixed with the passion of Padstownians makes the traditional 'Obby 'Oss celebrations a guaranteed memorable occasion.
Padstownians travel across the world to be back home for the celebrations. Some revellers in the town are up all night due to the traditional midnight start.
As the sun rises over Padstow on 1st May each year the streets will busy with people putting the finishing touches to shop windows choosing colours to support their chosen 'Oss.
The old streets, rich in history, will be ablaze with bluebells, forget-me-nots, cowslips, and sycamore twigs.
Around mid morning on May Day each year the children will be getting ready for their special dance which takes place before the main 11am dance.
Early in the morning on the 1st May the streets of Padstow come alive with the traditional May Day song:
Unite and unite let us all unite
For summer is acome unto day
And whither we are going we will all unite
In the merry morning of May.
The children from Padstow's schools will be beating away on their drums providing the all important rhythm for the Children's 'Oss.
The tension starts to mount again mid-morning for the appearance of the Blue 'Oss also known as the Peace 'Oss. The Peace 'Oss is led by a 'teazer' and many dancers. They dress in white with blue sashes showing their support for the 'Oss.
One hour later the Old 'Oss emerges to massive cheers from the crowd.
The 'Obby Oss' looks like a big black caped animal - thought to represent a stallion - with a strange mask and snapping jaws. The Pagan dance and the rhythm of the drum is quite hypnotic.
The 'Obby Oss' is led on by a 'teazer' who dances around the 'Oss' and prods him with a special padded stick.
On its route the 'Oss sometimes drags women and girls under its dark costume in quite a graphic attempt to portray a fertility rite.
It used to be said that "if you were caught beneath the veil that you would be pregnant within the year".