Cliff rocks fall on Newquay beach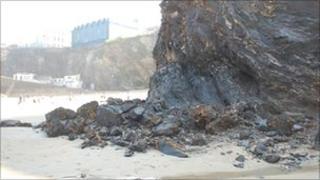 Lifeguards and Cornwall Council officials are warning people not to sit directly underneath overhanging cliffs after a rock-fall from one in Newquay.
Several heavy rocks fell on to Great Western Beach from the top of the cliffs near the Victoria Hotel at about 1340 BST on Tuesday.
Coastguards said an area of about 10 sq m of rocks fell.
A fire crew searched the scene and confirmed that no-one was trapped under the rubble on the beach.
Cornwall Council maritime manager Andy Brigden said warning signs were being put up around the fallen rocks.
He said: "There were 30 or 40 large rocks that fell.
"We've got four or five signs up warning of cliff falls, so we've just got to make sure that the message is reinforced."
Loose shale near the top of the cliff from where the rocks fell was also to be removed to help make the area safe, officials added.