Tributes to photographers caught in Libya blast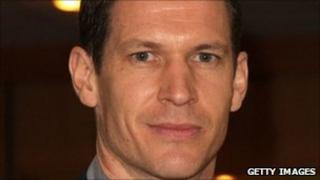 Tributes have been paid to two English photographers after one was killed and the other seriously wounded in Libya.
Liverpool-born Tim Hetherington, 40, is said to have been killed in a rocket-propelled grenade attack in Misrata.
Guy Martin, 28, from Cornwall, was injured in the blast. A US photographer, Chris Hondros, 41, was also killed.
Mr Hetherington's friend James Brabazon said he was "extremely talented, experienced and dedicated".
He had worked with Mr Hetherington on the Oscar-nominated war documentary Restrepo, which the photographer had co-directed.
Mr Brabazon said his friend, who lived in New York, had travelled to Libya in his work for Vanity Fair magazine as he had wanted to "shed light on a very confusing situation".
Another friend, Peter Bouckaert, of Human Rights Watch, said: "It really is a tragic death for a giant in the field of war photography and a person with a tremendous reputation and a giant heart."
'Forever missed'
Mr Hetherington had written of the dangerous position he was in on Twitter, saying: "In besieged Libyan city of Misrata. Indiscriminate shelling by Gaddafi forces. No sign of Nato."
His family released a statement on the Vanity Fair website.
It said: "Tim will be remembered for his amazing images and his Academy Award-nominated documentary Restrepo, which he co-produced with his friend Sebastian Junger.
"Tim was in Libya to continue his ongoing multimedia project to highlight humanitarian issues during time of war and conflict. He will be forever missed."
Vanity Fair editor Graydon Carter said Mr Hetherington was "about as perfect a model of a war photographer as you're going to find these days".
In an editorial for the magazine, he said: "He was a rangy, charming workhorse of a photographer.
"Devilishly good-looking and impossibly brave, he was both a ladies' man and a man's man.
"There were few like Tim and there will be fewer like him."
An exhibition including some of his pictures on social justice is due to open in Liverpool in May, as part of the Look 11 Liverpool International Photography Festival.
Daniel Cutmore, festival organiser, said: "It's not just reporting on what's happened, it's adding another layer through the way that he has framed his images, or the content or the colour, or in his documentary film-making the way that he blurs situations or scenes together and his use of music in that as well."
'Deeply saddened'
A tribute on the website of Mr Hetherington's former Catholic boarding school Stonyhurst College said: "Tim achieved excellent academic results and went on from Stonyhurst to Oxford University to continue his studies.
"We are deeply saddened to hear of Tim's untimely death and have offered our condolences to his family."
Mr Martin, of Falmouth, is believed to have suffered leg and stomach injuries and is in a serious but stable condition in hospital.
He underwent surgery at a local hospital overnight, his girlfriend Polly Fields said.
"Now it's a case of getting him stable enough so he can be evacuated from Misrata," she said.
He had been working for the Panos Picture agency.
The University College Falmouth, where Mr Martin is a part-time lecturer, said: "Guy is a hugely talented young photojournalist and a very valued member of staff."