Christmas opening for fire-hit Pandora Inn in Cornwall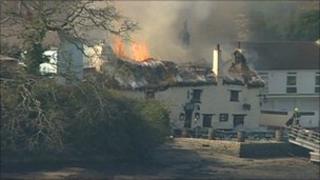 An historic Cornish pub which was damaged by fire may be back in business for Christmas.
The 13th Century Pandora Inn, on the River Fal at Mylor, was destroyed in the blaze in March. The fire was thought to have started in a chimney.
The pub's owners, St Austell Brewery, said restoration would be carried out as speedily as possible.
The Pandora's tenant, John Milan, said work was already under way to restore the damaged building.
Mr Milan said: "It was only yesterday we had full approval from our insurance company, because they wanted to check we'd done everything compliant with our insurance policy. It's full go ahead now.
Summer barge
"The sadness has gone now, and we're looking forward to its reconstruction. We're being positive and moving on."
The estate's director, Adam Luck, is investigating the idea of mooring a barge outside the waterside pub for the summer. For now all efforts are being focussed on reopening the historic venue before the end of the year.
Mr Luck said: "The next process is to put a temporary roof over the building. The key thing is to dry it out.
"It had buckets of water poured on it for two or three days to put the fire out. Obviously we've had lovely dry weather of late which has been a great benefit."
More than 35 firefighters tackled the fire on Thursday 24 March 2011. No-one was hurt in the incident.