Race to buy historic site in north Cornwall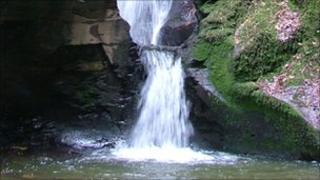 Supporters of a Cornish beauty spot are hoping to raise at least £800,000 in six weeks to buy it.
The Friends of St Nectan's Glen, near Tintagel in north Cornwall, need to raise the money before the end of May to buy the 14-acre site.
The owner is selling up after his wife died just before Christmas.
The friends fear a new owner might ban people from what is regarded as one of the most spiritual sites in the UK. It draws thousands of pilgrims every year.
Co-founder of the friends, Tor Webster, said time was running out.
"It's in danger now of being sold in six weeks.
"So we've only got six weeks to find the money or people who are interested in protecting it through getting a mortgage and helping us keep it alive."
Holy grail
According to the society in 500AD St Nectan built a small sanctuary on what was an ancient sacred site beside a river, just above a beautiful waterfall.
Cornish legend claims the Knights of King Arthur's Round Table went to the glen to be anointed before and after their search for the holy grail.
Barry Litton and his wife Jean have owned the 14 acre (5 ha) glen, hermitage and spectacular 60ft (18m) waterfall at Rocky Valley near Tintagel for 28 years.
Mr Litton said: "Jean and I both loved the place. It's time to hand over the reigns to someone else.
"I will be sorry to go from here but you just have to be practical."
The estate agents have put a £800,000 guide price on the property. It is inviting tenders which must be in by Wednesday 1 June.