Lizard Point choughs under 24-hour guard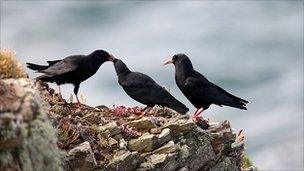 Two choughs which arrived in Cornwall 10 years ago are being guarded around the clock by the RSPB and volunteers to protect their eggs.
The RSPB said the female had been seen sitting on a clutch of eggs in the nest in a cave at Lizard Point.
It is hoped the pair will be more successful than in 2010 when all four of their young died.
If the birds are successfully hatched and reared, the chicks are expected to fly off in early June.
The chough, a rare member of the crow family, has distinctive red legs and a long red bill.
There were more than 100 pairs in the county but the bird vanished after its food source dried up because of a decline in cliff-top grazing and the use of pesticides.
It eventually disappeared from the county in 1973, before returning to Cornwall in 2001.
In 2010, four eggs from the Lizard Point pair hatched but none of the fledglings survived.
Elsewhere in the county during the same year, there were another five breeding pairs in the county. Three pairs successfully raised nine young.
The chough features on the official Cornwall coat of arms.
Related Internet Links
The BBC is not responsible for the content of external sites.