Truro Cathedral bell ringing postponed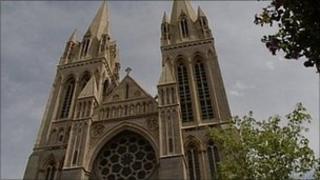 Truro Cathedral has had to postpone the first ringing of its new bells.
The bells had been due to be rung on Sunday, but vital parts to hang them were incorrect.
The foundry in Loughborough where they were cast said it had to change some parts earlier in the year. The cathedral hopes the first peal will ring by the end of May.
Two bells are being added to the cathedral's already impressive ring to make Cornwall's only ring of 12.