Protest over new care home plans for St Ives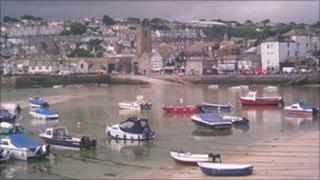 Hundreds of protesters are calling for Cornwall councillors to reject plans to build a 72-bed care home and 26 flats on fields beside a west Cornwall town.
Cornwall Care said two homes for the elderly it had run in Carbis Bay and St Ives could not be easily updated.
The company wants to build a new £12m facility in the Steeple Fields area of St Ives.
Protestors said they accepted a new building was needed but not in two fields beneath a town monument.
More than 800 people have signed up to a Facebook campaign against the plans.
They say the fields are an integral part of a historic rural area of St Ives, and that the public rights of way, the nature reserve and its steeple are visited all year round.
Legend has it that former mayor, John Knill, built the triangular steeple as a memorial so he could be buried there. After his death in 1811 his body was interred elsewhere.
'Don't have choice'
Protestor Rita Lait said: "The people who live in the town are opposed to this, including elderly people who would be candidates for the care home.
"They don't want to see anything built so close to the steeple in this area that they enjoy walking up to, to get away from the town."
The wife of former Plymouth Argyle player Rex Tilley is backing the plans.
Betty Tilley said her 82-year-old husband was suffering from Alzheimer's and thought the new home would be ideal for him.
Mrs Tilley said: "People like my husband do not have choice. There's so many beautiful places here, lovely beaches. But people like my husband are restricted. They don't have choice."
If the plans are agreed by councillors of the Conservative-led authority, residents at Trewartha in Carbis Bay and Headland in St Ives will move to Steeple Fields.
Douglas Webb, chief executive of Cornwall Care, said: "This is make or break. None of the other sites are available or suitable. We've got a report from the planning officers that recommends approval. The members have to do their job tonight, so we'll just have to wait and see."