Councillors reject new care home plans for St Ives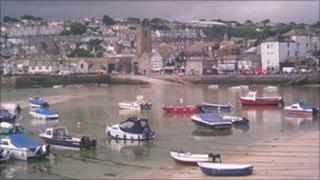 Plans for a 72-bed care home and 26 flats on fields beside a west Cornwall town have been rejected by councillors.
Cornwall Care had wanted to build a new £12m facility in the Steeple Fields area of St Ives.
Protesters said the proposed site, in two fields beneath a town monument, was not suitable.
Cornwall Council's west sub-area planning committee voted 13 to one against the plans. Cornwall Care said it was considering an appeal.
'Big milestone'
Planners had recommended the proposals be approved.
Cornwall Care said the new facility was needed because two homes for the elderly it ran in Carbis Bay and St Ives could not be easily updated.
If approved, residents at Trewartha in Carbis Bay and Headland in St Ives would move to Steeple Fields.
Protesters said they accepted a new building was needed but not in two fields beneath a town monument.
They said the fields were an integral part of a historic rural area of St Ives, and that the public rights of way, the nature reserve and its steeple were visited all year round.
More than 800 people signed up to a Facebook campaign against the plans.
After the vote, protestor Rita Lait said she was surprised by the decision.
She said: "It was not really the outcome we expected. We thought the vote was going to be much closer.
"Whatever swayed them; it's a still big, big milestone in our campaign."
However, she added that the campaign was "not over yet" and that protesters "won't be filing anything away" in case there is an appeal.
Douglas Webb, chief executive of Cornwall Care, said the organisation was to examine the vote carefully before deciding whether to appeal.