Royal Cornwall NHS trust's waiting times 'too long'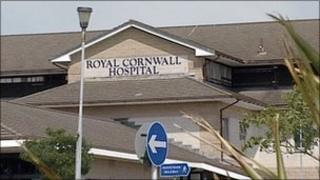 Patients at hospitals in Cornwall are having to wait too long for treatment, an NHS trust has admitted.
At the end of February almost 1,400 patients had been on waiting lists for longer than the Royal Cornwall Hospitals Trust's target of 18 weeks.
The trust has not met the 18-week target since June 2010.
Chief Executive Peter Colclough said the performance was a major disappointment and improving waiting times was its main priority.
The trust's end of year report blamed a higher than expected number of emergency admissions for the backlog.
The closure of the day surgery unit at Royal Cornwall Hospital for a multi-million pound redevelopment added to the backlog.
A trust spokesman said: "The trust has faced an extremely difficult few years to get us back on track but we are confident that in the next 12 months we can deliver the access to care our patients rightly expect."
The trust runs Royal Cornwall Hospital, in Treliske, St Michael's Hospital, in Hayle, and West Cornwall Hospital, in Penzance.
It is contracted by Cornwall and Isles of Scilly Primary Care Trust to carry out a certain number of operations, treatments and procedures each year.
Amanda Fisk, acting director of commissioning at the PCT, said: "As a matter of priority, we are working closely with the Royal Cornwall Hospitals NHS Trust to agree a recovery plan that will ensure that this right is available to all patients as quickly as possible.
"This is what patients deserve and local GPs expect."