New memorial for young evacuee killed 70 years ago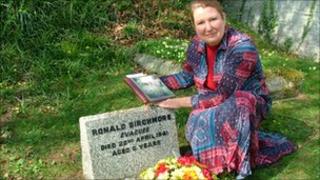 Seventy years ago, a young wartime evacuee from London, who had come to Cornwall to escape possible death, died in a road accident in south east Cornwall.
Ronald Birchmore, who was six, was knocked down and killed in the village of East Taphouse near Liskeard, on 22 April 1941.
Other evacuees attended his funeral and burial at nearby Connon Methodist Chapel - but no memorial marked his grave.
Steve Birchmore, now 75, who was evacuated with his elder brother, has visited Cornwall and village churchyards in recent years to try to locate Ronald's final resting place.
Army truck
His search was repeated by fellow evacuee, 82-year-old Albert Hill, who went to Connon Methodist Chapel last year and wrote in its visitors' book.
"During my stay a young evacuee was knocked down and killed by an army truck in East Taphouse," he wrote.
"All the children were there for the burial. Now we want to find this boy's grave."
Their search is now over, after the chapel scoured the cemetery records for Ronald's grave and then paid for and laid a granite headstone.
Geoff Pearse, who is a member of the chapel's property committee, said: "There was no stone marking the spot, that was the problem.
"I brought it up at our church council meeting. Our members were unanimous that we must put a stone there.
"We were sure of the place because the details were in our cemetery records. Now it's all fixed and paid for."
Recalling the fatal accident, Mr Birchmore said: "I cried a lot, one minute he was there, then he wasn't.
"It was a long time ago. I would imagine my parents didn't have any money for the gravestone."
He said he was delighted that the grave is now marked and that he hoped to visit this year.