BBC Introducing: Rash Decision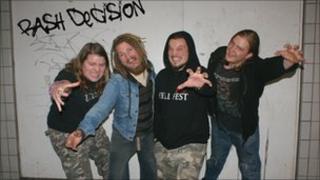 Rash Decision is a four piece punk/thrash band from Cornwall.
The group formed in 2006. Since then the band has undergone line up changes, and took a break too.
However they are back and making a major impact on the live circuit.
Since December 2009 Rach Decision has played more than 230 gigs.
They are proving to be one of Cornwall's hardest working bands. With more than 10 UK tours under their belt and three European tours so far, 2011 will see them touring constantly.
They will head out to Europe again in October 2011 and will cover territories such as Germany, Czech Republic and the Netherlands.
There music is an explosive mixture of various influences. When asked to describe their sound the band said: "It is a mixture between The Casualties, Extreme Noise Terror, Zeke, and Municipal Waste, combining the aggressiveness and attitude of punk rock with the speed of thrash."
Bands they have played with include: Skindred, Gallows, Ghost of a Thousand, Rolo Tomassi, Trash Talk, and The Computers.
They also played the Boardmasters Festival in Newquay in August 2010.
Rash Decision have managed to break onto the radars of some of the most well-known current punk bands, having landed support slots with The Casualties and The Plight for July 2011 tours.
They continue on their own headline tours and running a local three day festival called 'Summer Slaughter' at the Live Bar, Truro.
Forthcoming gigs in Cornwall include:
May 19 Mango Tango's in Falmouth
May 21 Studio Bar in Penzance
Jun 2 Newquay Reef Surf Lodge
Jun 3 Clipper Bar in Camborne
Jun 24 Clipper Bar in Camborne
Jul 14 Summer Slaughter @ Live Bar with The Plight, Ed Wood and more.