Islands prepare for World Pilot Gig Championships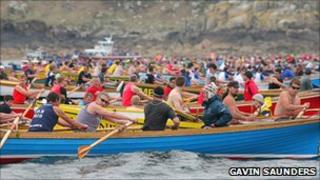 The 22nd World Pilot Gig Championships will take place this weekend on the Isles of Scilly.
The unique event in Cornwall's sporting calendar, which is running from Friday until Monday, attracts thousands of spectators.
The event has grown considerably since the first championships in 1989 when 19 boats competed.
The competition attracts teams from across the world, with rowers from the USA and Europe competing.
The practice of gig rowing is believed to date back to the 1700s when vessels around the coast of Cornwall and the Isles of Scilly needed a pilot to help them navigate their way through difficult waters.
A Cornish pilot is a six-oared rowing boat, 32 feet (9.8m) in length, made of elm.
Hundreds of crews will be racing in the championships, with teams battling in a range of heats, including men's, women's and mixed classes, as well as the famous veterans' clash.
Organiser Kevin Sherris said: "We didn't expect it to get as big as it is. It just seems to be growing more and more each year."
'Huge heartbeat'
Ros Atherton, treasurer of St Ives Gigs Club and a competitor in the last 16 championships, said competing in the race was an exhilarating experience.
Ms Atherton said: "They all line up at St Agnes for the first race, and it is just the most amazing sight and sound."
The sound of the oars was quite deafening, she said.
"It's like a huge heartbeat and if you get it right, it's a rhythm, it's hypnotic and it is magnificent," she said.
For the last two years, Par Bay have taken the Men's Championship in their gig, Warrior.
The women's title was taken by Falmouth in their gig, Irene Too.
Both teams will be out in force in a bid to retain their places.