Proposed ferry service to France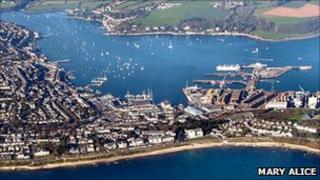 Talks have begun on a proposed freight and passenger ferry service to link Cornwall and northern France.
The weekly service could sail between Falmouth and St Malo in Brittany.
Discussions have already taken place on both sides of the channel. Backers of the plans, including the company which runs Falmouth docks, visited France as part of a feasibility study.
More discussions took place on Wednesday night during a visit to Cornwall by a senior French diplomat.
The French government's General Consul in London, Edouard Braine, gave the project his support and quoted the Channel Tunnel as one of the benefits between the two countries.
Mr Braine said: "It has completely changed the situation of the Kent area. I think that if there is link between Cornwall and Bretagne, there is the same kind of possibility and hope.
"A link by boat is much less of an investment, but also more limited in its consequences."
'Physical link'
Mike Reynolds, operations director at Falmouth Docks, said: "We think there must be a possibility of having a link with France.
"There's no link from this far west and yet there is a lot of traffic coming out of France which has to go a long way up the channel and then has to come all the way back down in order to get to Cornwall."
Among supporters of the proposed link is Tim Light from Cornwall Ferries.
Mr Light said: "I think it would be absolutely fantastic, both for Brittany but also for Cornwall to have a physical link, which would also tie-in in with all the many festivals, the local food and drink production and of course the great Universities at Tremough and also the University in Rennes."
The proposal is only at the feasibility stage with parties looking at how to create a sustainable business model for the project.