Relief for Rick Rescorla's widow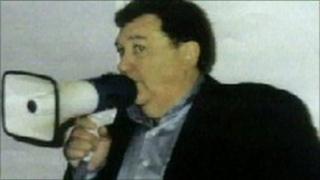 The widow of Cornish-born Rick Rescorla, a hero of the 9/11 attacks on New York, has spoken of her relief that Osama Bin Laden has been killed.
Speaking on BBC Radio Cornwall, Susan Rescorla said the killing was a moral victory.
And she said she was proud of the US Navy Seals who "went in there to put their lives on the line".
Rick Rescorla was a head of security at the World Trade Centre building, and is credited with saving hundreds of lives.
She said: "I personally think this is what he deserved. He was the mastermind with everything and changed all our lives for the past ten years, all over the world."
Rick Rescorla, originally from Hayle, in west Cornwall, died leading 2,700 people to safety from the World Trade Centre.
He sang Cornish songs to keep up the spirits of those around him while making sure they left the building after it was hit by a hijacked airliner.
Mr Rescorla was a US Army Colonel and was decorated for his service in Vietnam.
Speaking about Bin Laden's death, Mrs Rescorla said: "This was a moral victory for the Unites States, a moral victory for the world.
"But this is not over. If anything, this is going to continue.
"It's not like a regular army, they are all over the place. So we have to be on even more security."