Hundreds stranded in Isles of Scilly by high winds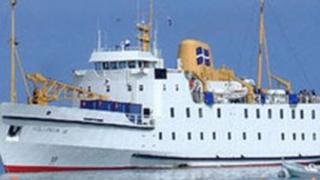 The head of a ferry company has apologised after hundreds of holiday-makers were stranded overnight in the Isles of Scilly.
The Isles of Scilly Steamship Company cancelled its crossing on Monday afternoon because of high winds.
The delay meant about 335 passengers could not get home. Some of them spent the night in emergency accommodation.
Hundreds of people were on Scilly to take part in the annual World Pilot Gig Championships over the weekend.
The stranded passengers set sail from Scilly at about 1300 BST and arrived later in Penzance.
About 500 passengers who left the islands on an earlier ferry crossing on Monday were stuck on board in rough conditions for an extra three hours.
The ferry was held near St Michael's Mount, just short of its destination of Penzance in Cornwall.
Jeff Marston, the chief executive of the Isles of Scilly Steamship company, told BBC Radio Cornwall: "We really do apologise to everybody for that delay but you can't do anything about the tides and the weather.
He said the passengers still on the island should be able to leave later.
"We've got capacity to move everybody off the island that we need to move.
"About 230 people from yesterday will go on the Scillonian (ferry), the rest will go on a combination of Skybus and British International flights."
Tommy Tonkins, a rower who had been taking part in the gig championships and was on the ferry delayed at sea, said: "People just wanted to get off the boat and on to dry land.
"Morale was pretty low."
The World Pilot Gig Championships have been taking place in the Isles of Scilly for 22 years.