Lock of Napoleon's hair auctioned in Cornwall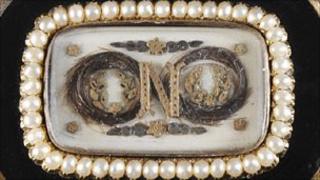 Napoleonic history enthusiasts have waged a bidding war for a lock of the French general's hair which was auctioned in Cornwall.
A gold brooch, with a figure-of-eight lock of hair, went under the hammer at David Lay's auction house on Friday.
Mr Lay said bidding for the late Georgian artefact reached £4,500, plus fees, nearly reaching its top estimate of £5,000.
It was believed to have been bought by a specialist dealer, Mr Lay said.
He added: "It's great fun to see this type of thing fly away in an auction."
Born in 15 August 1769 in Corsica, Napoleon Bonaparte crowned himself the Emperor of France.
The brooch is one of a number of Napoleonic artefacts from an estate in Cornwall.
The authenticated artefacts were given by the general to an Anglo-Irish major who was among his guards on the Island of St Helena, during his years of captivity after the defeat at Waterloo.
'Addressed with gratitude'
Captain William Thomas Poppleton of the 53rd Regiment was an important link between Napoleon and the British authorities.
He acted as the emperor's orderly and the two were in almost daily contact.
The locket is inscribed on the reverse: "Napoleon Bonaparte, lock of his hair, given to Mrs Riley by Major Poppleton."
Included with the lock is a document which auctioneers said contained the lock when it was given to Mrs Riley. It is addressed to her with much gratitude, signed and dated 27 July 1821.
Napoleon Bonaparte died in exile on the island of St Helena in 1821, aged 51.