RNAS Culdrose Merlin helicopters on NATO exercise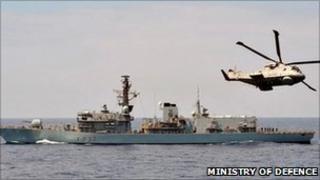 Helicopters from the Royal Naval Air Station (RNAS) at Culdrose in Cornwall are deploying to France.
Three Merlin helicopters from 829 squadron will take part in a NATO exercise later this month.
Two will operate from the French Naval Air Station Lann-Bihoué in Lorient and one from the frigate HMS Westminster.
The anti-submarine warfare exercise will include ships, aircraft and submarines from the US, France, Germany and Sweden.
Exercise Spontex 2011, off the Brest peninsula, is designed to improve readiness, proficiency and tactical skills.
The Royal Navy said it would provide a "realistic and demanding" training environment and also give the Merlin crews an opportunity to practice their primary role of anti-submarine warfare against a variety of exercise "enemies" not normally encountered in British waters.
Flight Pilot Lt Chris Suckling said it would be an intense period of concentrated tactical activity which provided the opportunity to work closely with other NATO personnel.