Half-brothers meet in Cornwall for the first time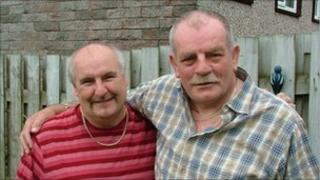 Two men who never knew they were half-brothers have had an emotional first meeting.
Steve Sullivan, 52, from Liskeard in south east Cornwall, has been traced by Dave Senior, 60, from near Southport.
Dave Senior was adopted as a baby before his mother met and married Mr Sullivan's father.
Their mother took her secret to her grave, but now Mr Senior has unravelled the mystery and the two men have been united.
Mr Senior said: "I was adopted at about six months old to a family in a Liverpool area. I always knew I was adopted.
"I did a lot of research on the internet and various libraries. I found that my mother was Margaret Rose Sullivan.
"She lived in Preston and she had to give me away. I assume because she was in a mother and baby home she had to have me born and then give me up for adoption."
Later, Margaret married Jim Sullivan and she gave birth to Steve Sullivan.
After painstaking research, Mr Senior managed to track down his half-brother.
Mr Senior said: "We've been emailing, but then I rang him out of the blue. I just said 'hi Steve, it's your brother Dave', and we've been chatting ever since.
"It's finding some roots and finding some closure. Steve is my brother, there's no other way to say it."
Mr Sullivan said: "It was very surprising. I didn't know I had a brother for 52 years.
"I just thought I would like to meet him, I wanted to see if he looked like me. He looks a bit like me, but I am the better looking one!"