Falmouth yachtsman Paddy Macklin eyes Northwest Passage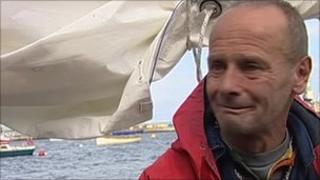 Cornish sailor Paddy Macklin who returned from a round-the-world journey last week is planning to sail through the Northwest Passage.
The yachtsman who arrived in Falmouth on Thursday on his 27ft (8.2m) wooden sloop, said his next trip could be the sea route through the Arctic Ocean.
The 52 year old, who left Falmouth in December 2009, said: "I think the Northwest Passage is a possibility and I don't want to change my boat.
"It's one of those other great things."
He said that his yacht, the Tessa, would require an engine, which he went without on his circumnavigation.
"There would be times with no wind and you would need to ferret your way through the ice.
"It requires a lot of preparation, it won't happen this year."
Mr Macklin, who sailed round the world without high-tech gadgets or corporate support, was greeted by friends and family after sailing into port, nearly 18 months after beginning his voyage.
He had been hoping to beat Sir Robin Knox Johnston's time for sailing solo and non-stop around the world in 312 days, but was forced to call into New Zealand for repairs after sustaining damage in a Southern Ocean storm.