Cornwall Council cabinet in shake-up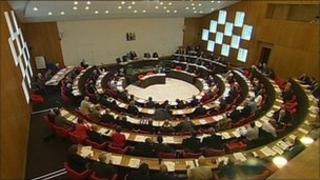 Cornwall Council's leader has announced a series of changes to the council's cabinet.
Alec Robertson said the shifts on the council, controlled by the Conservatives and Independents, were being made to strengthen the cabinet.
Key changes included moving the economic responsibilities from Carolyn Rule to Chris Ridgers.
Ms Rule will cover Health and wellbeing and human resources.
The Liberal Democrat group has described the changes as "a desperate attempt to paper over the cracks".
It said it wanted to know how much the changes would cost taxpayers.
Mr Robertson said: "I want to make it absolutely clear that we will deliver these changes at lower costs than the existing Cabinet and support structures."
Four new support posts are being created, three Conservatives and one Independent.
BBC Radio Cornwall political reporter Graham Smith said: "The 3-1 ratio does not reflect political balance either in the council or the 3-2 balance in the former cabinet."
John Wood, leader of the council's Independent group, said that the Independents had been consulted on these changes and were pleased with the progress made.
Mr Robertson said: "We want to deliver a new future for Cornwall which will involve focusing on new priorities.
"Areas such as health and devolution will be of increasing importance to the future of both the council and to Cornwall over the coming months and years and it is vital that we have members focusing specifically on these areas."
The changes will be formally reported to the annual meeting on Tuesday and will come into effect on 23 May.