Land's End marks the start of 2012 Olympic torch relay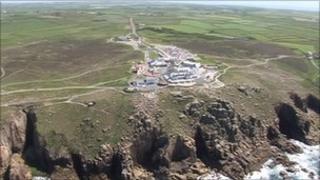 The 2012 Olympic Games torch relay is to start from mainland England's most westerly point, Land's End in Cornwall.
The first torch bearer will set off from Land's End on Saturday 19 May 2012.
It has not been announced exactly how the Olympic flame will arrive on British soil.
There will be a 70-day tour of the UK before the torch arrives at London's Olympic stadium ahead of the opening ceremony on 27 July 2012.
'Memorable journeys'
Cornwall Council's leader Alec Robertson welcomed the news, saying it would mean that "the eyes of the whole world will be on Cornwall".
He said: "Land's End is renowned as a starting point for memorable journeys and this one is surely set to become one of the most memorable in our history.
"The decision to choose Cornwall as the starting point for the 2012 celebrations offers us a wonderful opportunity to showcase the very best we have to offer and it is an opportunity that we will grasp with both hands."
After Land's End, the torch relay will stop in Plymouth and Exeter.
A nomination process will be used to pick the 8,000 torch bearers for the relay.
London 2012 organisers have said they want the torch to visit different communities and cultures and draw people in to the Games.
It will also be used to showcase Britain's towns, areas of outstanding natural beauty and sporting and cultural landmarks.
The last time the Olympic Games were held in Britain was in 1948.
Then, the torch relay set off from Dover, in Kent, rather than Land's End.