Quarry dangers lead to safety warning in Cornwall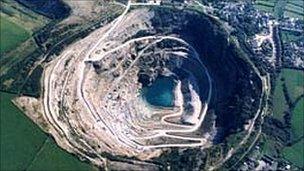 Quarry owners in Cornwall are warning young people not to treat the sites as playgrounds.
The 'Stay Safe, Stay Out of Quarries' campaign has been launched again to deter teenagers from the potential risks of venturing into sites.
The Mineral Products Association (MPA) issued the warning by revealing that six teenage boys have lost their lives in UK quarries over the last two years.
In Cornwall there are 22 active quarries and many more abandoned sites.
Elizabeth Clements of the Mineral Products Association said: "We surveyed our quarry managers this year and 56% of them in the south west are reporting problems with trespass saying 'it's a constant worry or it's a significant concern'.
"The problem is these are accidents waiting to happen.
"In the last couple of years we've had a number of teenage boys that have lost their lives.
"This year we've got the backing of their parents supporting the campaign because we really want to do the best we can to ensure that other people don't experience what those families have been going through."
The MPA say they continue to work hard to ensure they liaise with the quarry landowners to ensure all the sites are fenced off and signed appropriately.
"This is why we are running this campaign, it doesn't matter who the land belongs to, we should be making this awareness of the potential risks you take if you go into a quarry uninvited."
Related Internet Links
The BBC is not responsible for the content of external sites.